IMPORTANT & NOTEWORTHY FILMS
FEATURING ASIAN PACIFIC AMERICANS
1990

TWIN PEAKS
(1990-91)
Directed by David Lynch


Cast: Kyle MacLachlan, Michael Ontkean, Richard Beymer, Lara Flynn Boyle, Sherilyn Fenn, Peggy Lipton, James Marshall, Ray Wise, Piper Laurie, Joan Chen, Julee Cruise, David Duchovny, Miguel Ferrer, Harry Goaz, Heather Graham, Michael Horse, Sheryl Lee, Austin Jack Lynch, David Lynch, Carol Lynley, Chris Mulkey, Dan O'Herlihy, Gavan O'Herlihy, Mak Takano, Russ Tamblyn, David Warner, Clarence Williams III, Billy Zane, Jennifer Aquino
After his big-screen triumphs as an off-kilter movie director, David Lynch ("Eraserhead," "The Elephant Man," "Barbarians," "Wild at Heart," " Blue Velvet," "Dune") produced this bizarre, unsettling TV series, sort of a small-town soap opera on LSD. The show's eerie aura and mind-blowing plot twists won a well-deserved cult following--but failed to find a popular audience. Joan Chen takes the intriguing role of businesswoman Josie Packard, a character not originally written as Asian. Chen's performance is textured and nuanced, abetting the show's weird, mysterious atmosphere. However, her character--predictably--turns out to be an ex-hooker. Given how the show upsets expectations, it's hard to tell whether Chen's character indulges or explodes the "dragon lady" stereotype. Maybe both?
HIROSHIMA: OUT OF THE ASHES
(1990)
Directed by Peter Werner
Cast: Max von Sydow, Judd Nelson, Noriyuki "Pat" Morita
Despite the fact that von Sydow and Nelson get top billing, this American TV movie is actually an ensemble film that makes good use of its largely Asian American cast: Morita, Tamlyn Tomita, Mako, Kim Miyori, etc. It tells a fictionalized story of Hiroshima on the day that the first atom bomb was dropped. We see the story primarily through the eyes of the Japanese characters, and we are asked to empathize with them. The awkward presence of von Sydow and Nelson notwithstanding, this above-average TV film affirms that an American audience can see itself in the faces of Asian people. (Trimark Video)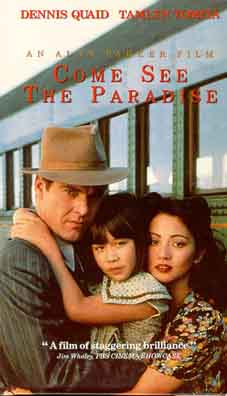 COME SEE THE PARADISE
(1990)
Directed by Alan Parker
Cast: Dennis Quaid, Tamlyn Tomita, Sab Shimono, Shizuko Hoshi, Stan Egi, Ronald Yamamoto, Akemi Nishino, Naomi Nakano, Brady Tsurutani, Caroline Junko King, Takamuro Ikeguchi, Danny Kamekona, Yoshimi Imai, Lenny Imamura, Goh Misawa, Sanae Hosaka, Shűko Akune, Keenan Shimizu, Dale Ishimoto, Shinko Isobe, Mariko Fujinaka, Fred Irinaga, Cynthia Aso, Emi Endo, Marian Mukogawa, Joe Heinemann, Michael York, Gigi Toya, Teri Eiko Koide, Jumi Emizawa, Bill M. Ryusaki, Ken Katsumoto, Harunobu Yoshida, Saachiko, Richard Iwamoto, Douglas Kato, Ken Y. Mayeno, Makio Sasaki
In the late 1930s, Jack, an Irish-American labor organizer, moves to San Francisco, where he gets a job as a film projectionist and falls in love with the Japanese-American theater owner's daughter.
Their romance flourishes and against Lily's father's wishes, the two decide to marry. Because inter-racial marriage is still illegal in California, however, they flee to Washington State to wed. They take up residence in Seattle and Lily gives birth to a duaghter. But when Jack resumes his union activities over her objections, Lily returns to California just as the Japanese bomb Pearl Harbour and the United States enters World War II. Lily, her daughter, and the rest of her family are rounded up and imprisoned under the auspices of President Roosevelt's executive order that detained all Japanese-Americans in internment camps. Jack enters the army but goes AWOL in order to visit his Japanese family.
"Come See the Paradise" explores this embarassing moment in American history, and poses important questions about national identity and what it means to be an American. This film is noteworthy because it was a picture from a major studios featuring Asian Americans, including Tamlyn Tomita in one of the lead roles that had a chance of making a big difference - but didn't! Though it followed the same old often-repeated and tired story of a Japanese girl falling in love with somebody white who protects her. "Come See the Paradise" does take a chance to center around the horrible situation surrounding the internment of the Japanese during WWII!
site design by Asian American Artistry
for any questions regarding the content, please contact Asian American Artistry
Copyright © 1996-2005 - Asian American Artistry - All Rights Reserved.